Evolution Mitre Saws
Evolution mitre saws are designed and engineered to deliver power & accuracy through tough, heavy-duty applications, including hardwoods, even mild steel and ferrous metals. Accurately perform 0 - 50˚ mitre cuts, 0 - 45˚ bevel cuts, and 45 - 50˚ compound cuts. Trade tested and rated.
Cutting Angles
Sliding cross cuts, bevel cuts, mitre cuts and compound cuts applicable on every Evolution Sliding Mitre Saw.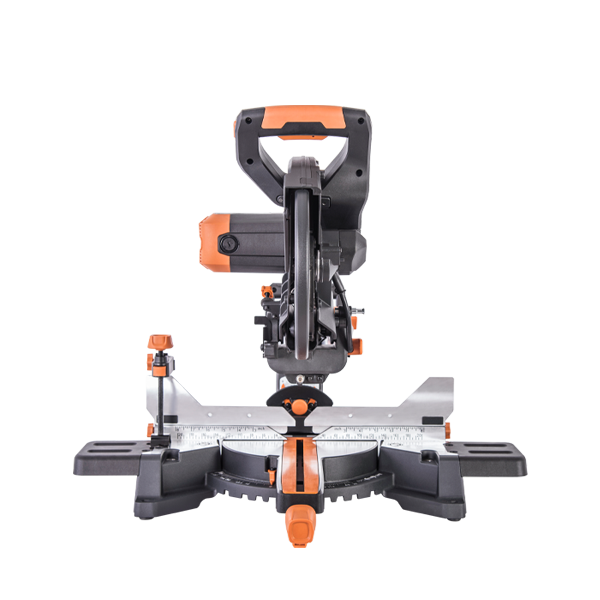 Cross Cuts
(0° x 0°)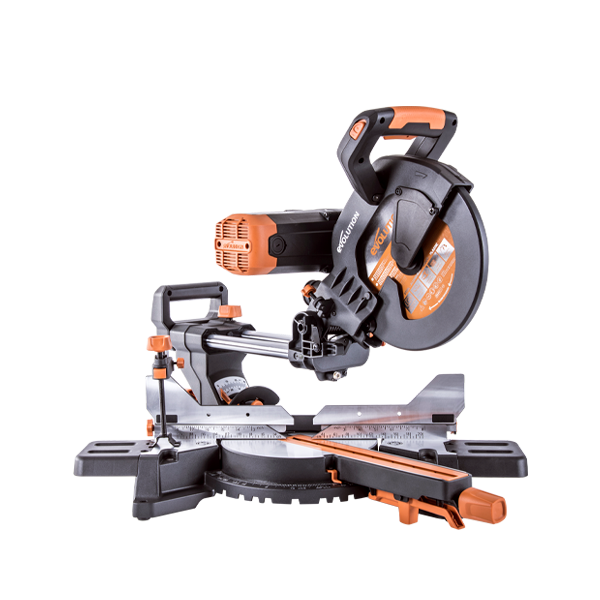 Mitre Cuts
(0° x 50°)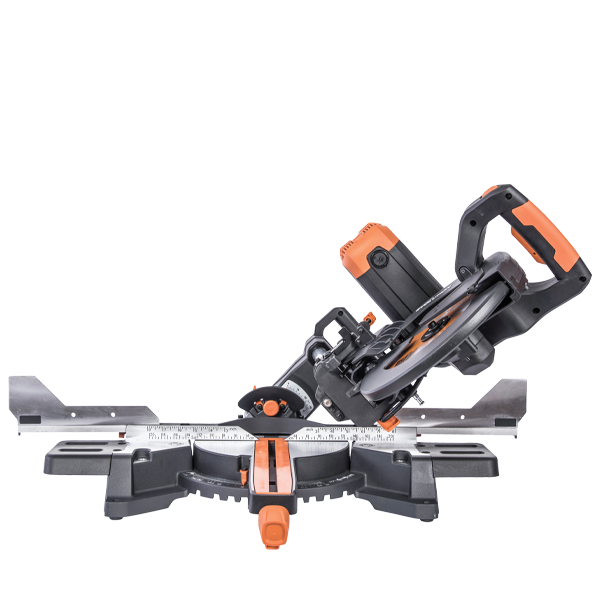 Bevel Cuts
(45° x 0°)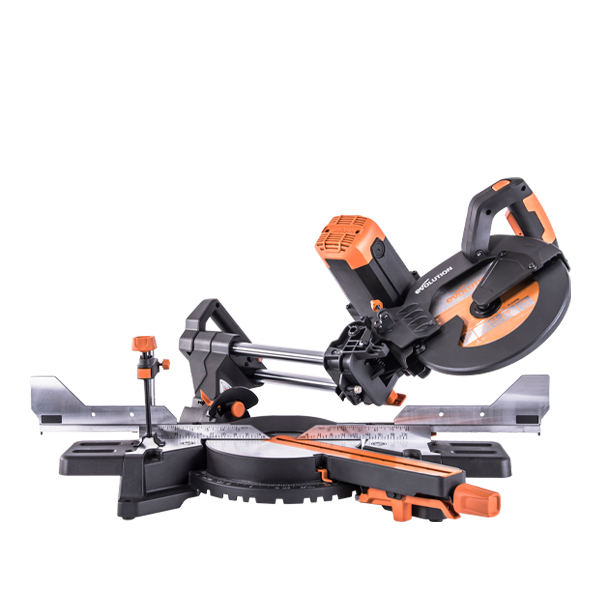 Compound Cuts
(45° x 50°)
Universal Mitre Saw Stand
• Telescopic arms with repeat cut stop block.
• Light & compact design with fold-away legs.
• Adjustable-height work-piece supports.
• Compatible with almost any mitre saw brand.
View Mitre Saw Stand
Tungsten Carbide Tipped Blades
• Available in 7-1/4", 10", and 14" blade sizes.
• Cut steel, aluminum, wood, even wood with embedded nails and more with one blade.
View All Blades
How To Assemble Your Evolution Sliding mitre Saw
In 3 easy steps.
• Slide the rails through the neck of the saw.
• Lock the rails and attach the head to the rails.
• Then, fit the blade, and you're good to go.
" Arrived intact and well package. Instructions were clear. I like the way the blade rapidly slows after the trigger is released. The saw separates effortlessly from the stand by releasing two tension handles. The stand with the adjustable wings adds to the capability of the saw. "
" This saw is very accurate and powerful. Cuts through a pressure treated 4x4 with ease. This saw was delivered quickly and has now become one of my favorite power tools. With the quality of this product,I'll be interested in purchasing their table saw as well. "
" I've used several types of mitre saws and I decided that I needed to step my game up and upgrade to a sliding compound mitre saw. The Evolution R185SMS+ was an excellent and affordable choice. Assembly was quick and easy and it comes with a 10' cord, your choice of a spout or dust control bag, a multi purpose blade that cuts almost anything including thin metals and oh yeah a laser for precise cuts!! It does bevel, mitre and compound mitre cuts. It has a very sturdy build for a smaller 7-1/4" saw, it's fairly lightweight and it's just a beautiful to look at. I love it so much that I am thinking about purchasing either the same unit or the larger 10" model. It is hands down one of the best tools that I have ever owned. "
R185SMS+

Single Bevel 185mm Evolution Mitre Saw

View

R210MS+ & R210SMS-300+

Single Bevel Sliding mitre Saws

View

R255SMS+, F255SMS & R255SMS-DB+

Single & Dual Bevel Sliding mitre Saws

View
230v
Voltage
230v or 110v
Not Dual Voltage
230v or 110v
Not Dual Voltage
185mm
Blade Size
210mm
Blade Size
255mm
Blade Size
3-Years
Guarantee
3-Years
Guarantee
3-Years
Guarantee
210 x 56mm
Max. Cross Cut (0° x 0°)
230x 65mm or 300 x 65mm
Max. Cross Cut (0° x 0°)
300 x 80mm or 300 x 90mm (DB)
Max. Cross Cut (0° x 0°)
210 x 38mm
Max. Bevel Cut (0° x 45°)
230x35mm or 300 x 65mm
Max. Bevel Cut (0° x 45°)
300 x 52/34mm L/R(DB)
Max. Bevel Cut (0° x 45°)
145 x 56mm
Max. mitre Cut (45° x 0°)
150 x 65mm or 210 x 65mm
Max. mitre Cut (45° x 0°)
210 x 80mm or 212 x 90mm (DB) or
Max. mitre Cut (45° x 0°)
145 x 38
Max. Compound Cut (45° x 45°)
150 x 38mm or 210 x 38mm
Max. Compound Cut (45° x 45°)
210 x 45mm or 212 x 52/34mm L/R (DB)
Max. Compound Cut (45° x 45°)
45° (L) - 0° (R)
Max. Bevel
45° (L) - 0° (R)
Max. Bevel
45° (L) - 45° (R)
Max. Bevel
50° (L) - 50° (R)
Max. mitre
50° (L) - 50° (R)
Max. mitre
50° (L) - 50° (R)
Max. mitre
0˚, 15, 22.5, 30, and 45˚
Positive mitre Stops
0˚, 15, 22.5, 30, and 45˚
Positive mitre Stops
0˚, 15, 22.5, 30, and 45˚
Positive mitre Stops
4mm
Mild Steel Box Section
(Max. Wall Thickness)
4mm
Mild Steel Box Section
(Max. Wall Thickness)
4mm
Mild Steel Box Section
(Max. Wall Thickness)
8.95kg
Product Weight
15.3kg
Product Weight
18.3kg
Product Weight
10.6kg
Packaged Weight
17.8kg
Packaged Weight
20.45kg
Packaged Weight
290mm x 595mm x 565mm
Product H x W x D
314mm x 575mm x 610mm (320mm x 710mm x 710mm 300mm slide version)
Product H x W x D
360mm x 705mm x 730mm (570 x 545 x 385mm DB-Model)
Product H x W x D
445mm x 435mm x 315mm
Packaging H x W x D
575mm x 325mm x 535mm
Packaging H x W x D
575mm x 385mm x 545mm
Packaging H x W x D
3m
Cable Length
3m
Cable Length
3m
Cable Length

Blade Specifications

185mm
Blade Size
210mm
Blade Size
255mm
Blade Size
20
Teeth
24
Teeth
28
Teeth
20mm
Arbor
25.4mm
Arbor
25.4mm
Arbor
1.7mm
Kerf
1.7mm
Kerf
2.0mm
Kerf

Items Supplied





185mm

20 Tooth Multi-Material TCT Blade
View




210mm

28 Tooth Multi-Material TCT Blade
View




255mm

28 Tooth Multi-Material TCT Blade
View

3pc Hold Down Clamp
Dust Collection Bag
Dust Port Adaptor
Instruction Manual
M4/M6 Dual-Ended Hex Key
Machine Table Extensions x2
Rotary Table And Neck
Cutting Head
Carriage Slides
mitre Locking Knob
Slide Locking Knob
Mains Cable Guide/Clamp (1 Fitted)
Self Tapping Cap Screw
Socket Headed Screws x2 (Fitted)
Laser Lens Cap (Fitted)
Rear Carry Handle

Quick Release Hold Down Clamp
Dust Collection Bag
Dust Port Adaptor
Instruction Manual
M6/M4 Dual-Ended Hex Key
Machine Table Extensions x2
Rotary Table And Neck
Cutting Head
Carriage Slides
Mitre Locking Knob
Slide Locking Knob
Mains Cable Guide/Clamp
Self Tapping Cap Screw
Socket Headed Screws x2
Laser Lens Cap
Rear Carry Handle

Quick Release Hold Down Clamp
Dust Collection Bag
Dust Port Adaptor
Instruction Manual
M6/M5 Dual-Ended Hex Key
Machine Table Extensions x2
Rotary Table And Neck
Cutting Head
Carriage Slides
Mitre Locking Knob
Slide Locking Knob
Mains Cable Guide/Clamp
Self Tapping Cap Screw x1
Socket Headed Screws x2
Laser Lens Cap
Rear Carry Handle
M6 x 16mm Socket Headed
Screws x4 M5 x 12mm

Also Compatible With: